Midterm Elections Bring $1.5 Billion In OTT/CTV Advertising Spend
Last week, The Current published an article stating a record $9 billion will be spent on the 2022 midterm elections, compared to the $4 billion spent in 2018.  Connected TV or OTT/CTV advertising will take close to 20% of all political spend.
Kyle Roberts, CEO of nonpartisan ad tracker AdImpact, highlighted that CTV is now one of the biggest players in political advertising and an estimated $1.5 billion will be spent on Connected TV advertisements during the midterms.  His expectations for CTV don't just stop in 2022.  With more investment and total viewership on the rise, the impression base and audience size on CTV will only increase and attract more advertisers away from linear TV.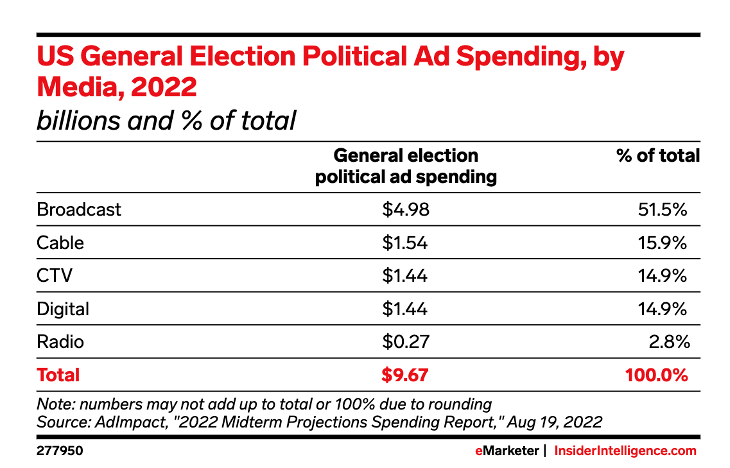 Why Are Political Advertisers Turning Towards CTV?
Political advertisers are investing more into CTV to take advantage of the reach it provides.  A new study from TV analytics company Samba TV and market research firm HarrisX found that more than 80% of households with registered voters stream content.  CTV allows them to target audiences more effectively and with scale, and for political campaigns this means targeted messages to important battleground states.
CTV/OTT Advertising Enables Advanced Targeting
With Connected TV advertising, advertisers can deliver ads directly to people with specific behaviors, interests, and demographics.  In addition to this, advertisers that leverage OTT platforms like JamLoop can geo-target by states, DMA, counties, and ZIP Codes.
Access Hard-To-Reach Audiences
Connected TV advertising extends the targeting and placement capabilities that traditional linear TV fails to offer.  Advertisers can reach audiences across several different devices and publishers.
Attribution For Ads on CTV/OTT
Connected TV adversing also comes with detailed tracking and attribution metrics that linear TV can't provide. This allows brands and advertisers to better understand engagement and conversion data from their streaming advertisements.
Increase Recognition and Influence Voters With Effective OTT/CTV Ads
JamLoop will help generate brand awareness, deliver targeted messages, and track ad results for your next campaign.