Streaming TV and OTT Advertising: How does it work?
How consumers watch their favorite TV shows and movies has been changing rapidly over the past few years. If you are like most consumers, you are probably already familiar with streaming TV apps like Netflix and Amazon Prime Video. While these streaming apps are subscription-based, there are dozens of other streaming services that are free or cheaper for consumers because they include paid advertising as part of the viewing experience, just like traditional network TV. Brands want to reach consumers who are watching these new streaming services, and this type of advertising is commonly known in the ad industry as "OTT" or "CTV." If you are unfamiliar with what and how OTT/CTV works, this is the article for you. We will provide you with an introduction to all things OTT and CTV, and guide you on how advertising through these mediums can help your business.
OTT (Over-The-Top) media is TV-like content you can watch online. CTV (Connected TV) describes the TV on which you actually consume the content.
What do OTT and CTV mean?
OTT (Over-The-Top) media describes TV-like content that you can now watch via an internet-enabled device without having to use traditional cable or satellite. Consumers connect through an internet-enabled device, typically Roku, Amazon Fire, Apple TV, and Xbox. In addition, most new televisions from the major brands like Vizio, Samsung, LG, etc. are internet-enabled and can stream content directly to the screen. On the other hand, CTV (Connected TV) describes the big screen that may sit in your living room or bedroom on which you actually consume the content. While OTT is used to describe the app streaming experience and CTV is simply the screen type, they are often used interchangeably in the advertising industry (for better or worse) because they represent two complementary aspects of the "new" television. You may have heard the term "cord-cutting" and that is exactly what this is describing — People are switching from traditional cable and satellite services to streaming apps for rich, on-demand television viewing experience.
Switching to OTT and CTV has been a recent and clear trend in consumers' preferences, and the current pandemic has only served to accelerate this trend. According to Business Insider, "The average time spent with subscription OTT video content in the US will surpass 62 minutes per day this year, up 23.0% from 2019." The average time spent on OTT video content is expected to continue to increase in the following years as well. With consumers spending so much time on streaming television, no wonder brands need to figure out how to reach this digital audience that has reached critical mass. The time to shift budget away from traditional network television and into OTT and CTV advertising is now.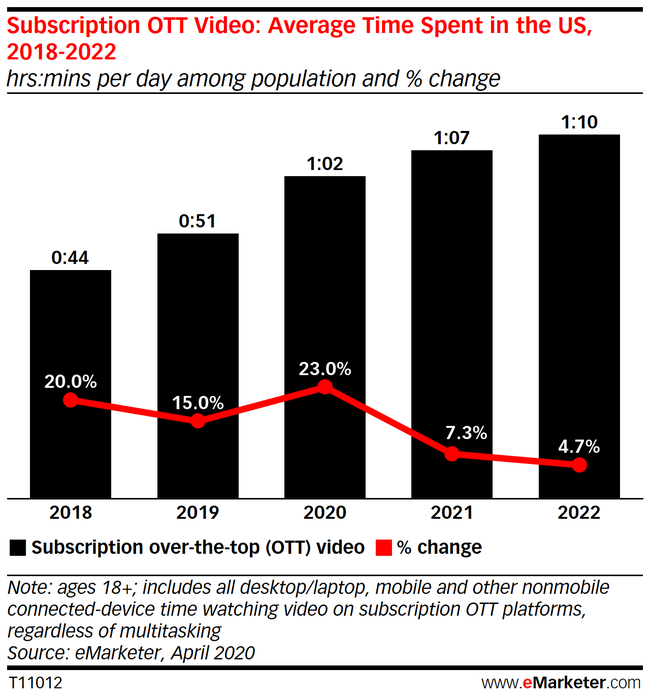 Why should I advertise on OTT and CTV?
Now that you know more about these mediums, you may be wondering how advertising on them can help your business. As you have seen, the interest from consumers is there and advertisers inevitably must follow consumers.
OTT advertising offers a new way to connect with your target audience, combining the benefits of digital advertising (e.g. more pinpointed targeting, more granular real-time reporting) with the power of building brand awareness and, increasingly, the reach associated with traditional TV advertising. Your business has the potential to target ads by geographic, demographic, and psychographic characteristics. Similar to other forms of digital advertising, you can see clear results on your ad campaigns through rich analytics. SmartyAds makes another great point in that, through OTT media, consumers can do little to avoid ads. It is much harder to skip or remove advertisements compared to things like web browser ads.
Companies like JamLoop can help your business reach its goals for OTT advertising. JamLoop has created its own demand side platform (DSP) that can provide your business with a wide variety of opportunities to get your brand, your service, your offering in front of your target audience. Since JamLoop operates its own DSP, it can provide brand advertisers with actionable transparency and pricing efficiencies in ways that other media "resellers" simply cannot.
Overall, it is important to evaluate your business goals and determine if OTT and CTV advertising will help your company. It is important to do your research and find the best options for your business. As the OTT media consumption continues to grow, advertising through these mediums is definitely worth considering. It's the new TV advertising experience!