JamLoop Brings A Fast, Flexible, and Transparent OTT/CTV Experience
Reach Your Audience With Scale Using JamLoop's Purpose-Built OTT/CTV Advertising Platform
JamLoop is an OTT advertising platform that empowers advertisers to reach their audience across 250+ premium streaming apps. With JamLoop, advertisers can create, manage and report their OTT campaigns with industry-leading dashboards and account managers.
JamLoop provides advertisers with a suite of powerful tools to reach their audience across multiple devices and platforms. Advertisers can take advantage of targeting options such as device type, operating system, location, age, and gender to deliver their ads to their target audience. JamLoop also provides detailed performance metrics and reporting to help advertisers measure and optimize their campaigns.
Our platform is an ideal choice for advertisers who want to reach their audience with scale and deliverability. Learn more about the benefits of JamLoop's OTT/CTV ad platform and the growth of Connected TV advertising.
Benefits Of Dealing Direct With The Ad Platform
OTT/CTV advertising is becoming increasingly popular among advertisers and marketers due to its advanced audience targeting and its cost-effectiveness compared to traditional linear TV. Connected TV advertising platforms offer several advantages that can help businesses reach their goals.
Reach: OTT/CTV advertising platforms provide businesses with access to a much larger audience than traditional television advertising. By leveraging OTT/CTV, advertisers can reach their target audiences across multiple devices and placements, giving them a much broader reach than what is possible with traditional television advertising.
Targeting: OTT/CTV advertising platforms provide businesses with the ability to target specific audiences by using data-driven insights. This allows businesses to tailor their campaigns to reach the right people at the right time, ensuring that their ads are seen by the most relevant audience.
Cost-effectiveness: OTT/CTV advertising can be more cost-effective than traditional television advertising. Because of its ability to reach personalized audiences across different apps, advertisers can often get more bang for their buck.
Measurability and Attribution: OTT/CTV advertising platforms provide advertisers with the ability to track the performance of their ad campaigns. This empowers advertisers to adjust campaigns to maximize their conversions and save money.
Growth In OTT/CTV Advertising
There has been a significant growth in OTT/CTV advertising in recent years.  In 2022, total OTT advertising spend was estimated to be over $2 billion. This growth is expected to continue and reach $3.5 billion by 2026 with an annual average growth of 14.3 over the next four years.
The growth in streaming viewership and subscriptions is one of the main reasons for the increase in ad spend.  Platforms like Pluto, Hulu, and Sling TV are becoming more common in US households than traditional cable. The increase in the number of people watching content on streaming applications is causing advertisers to rethink their advertising spend.
As more content gets added to streaming services, the OTT/CTV advertising industry will allow advertisers to create personalized messaging to their audiences.  The scale that OTT/CTV platforms like JamLoop offers is unmatched compared to linear TV and other digital advertising campaigns.
Looking at the numbers…
Local service companies like legal firms, home services, and manufacturers spent over $300 million in OTT advertising in 2022
The automotive industry spend $273.2 million
Restaurants ($203.4 million), Health sector ($202.8 million), Finance/Insurance ($182.8 million)
OTT Advertising spend surpsased $2 billion in 2022
Expected annual average growth is 14.3% over the next four years
By 2026, OTT Ad spend is expected to reach $3.5 billion
GET STARTED WITH JAMLOOP! REQUEST A DEMO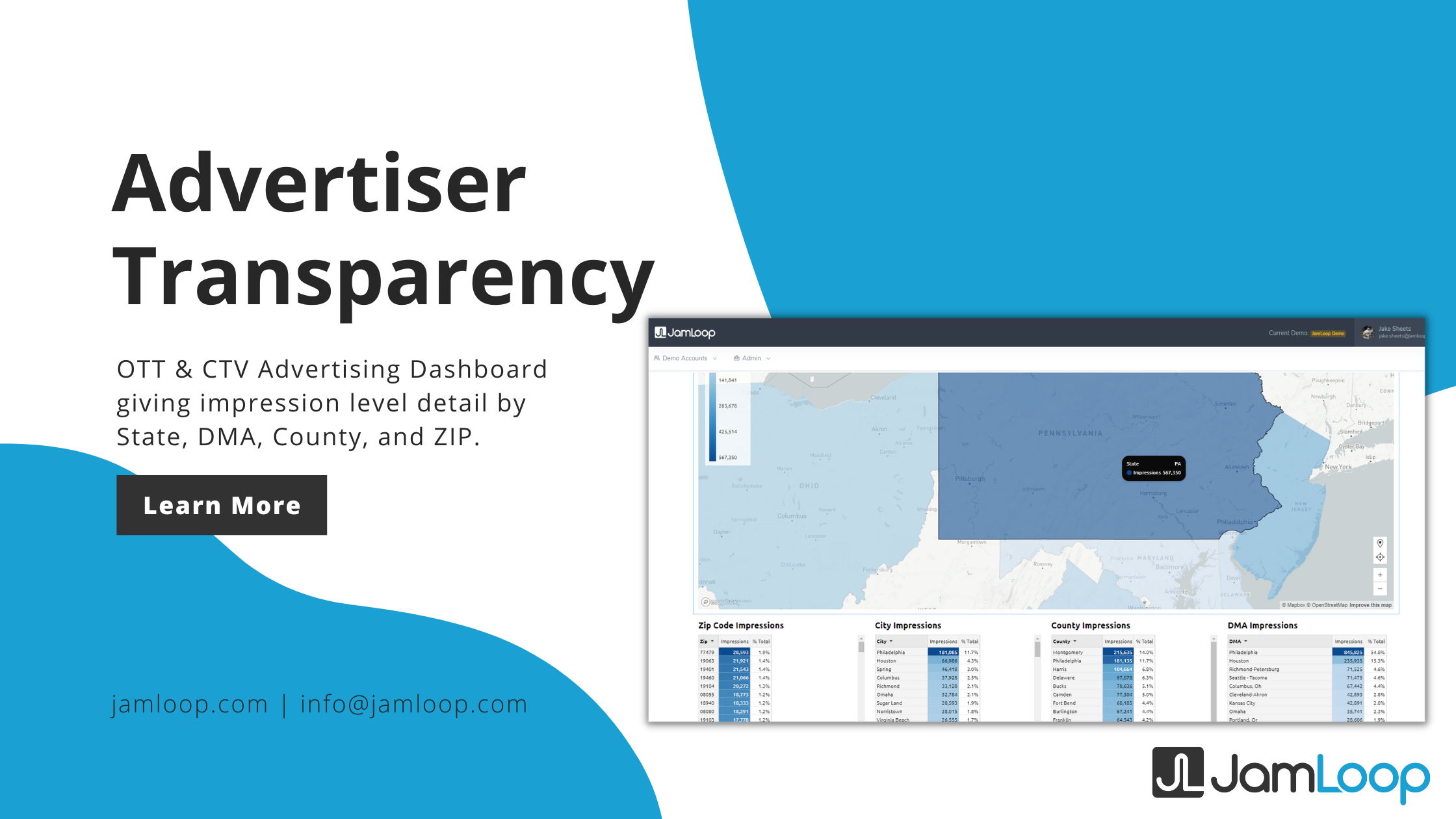 JamLoop understands the unique challenges of mid-market agencies who are shifting budget to OTT/CTV. We provide a powerful combination of world-class DSP technology, media planning expertise, and operational resources to get reliable results.
{{cta('ff813db9-70f7-4aa9-8359-5ddad8de3b1c')}}